Abandon ship...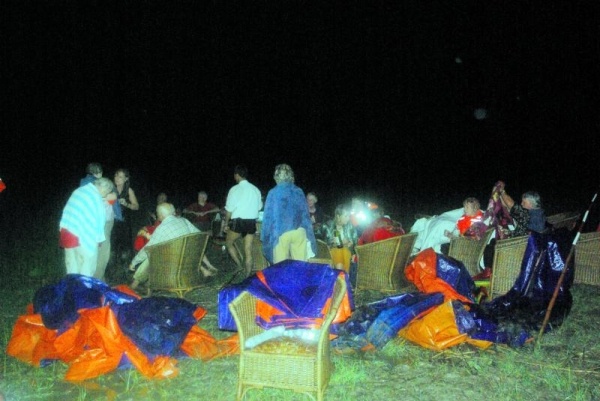 Hardly a brilliant photograph, but taken under extreme conditions after we had been forced to abandon ship while cruising the Upper Irrawaddy in Burma. A freak 90mph wind slammed into the vessel causing it to list at an angle of about 40 degrees. The rain was torrential and driven by the high wind. We escaped to a mud island where we huddled together under the driving rain for an hour or so as I cursed myself for not having my camera with me.

I later managed to scoot on board, rummage through my belongings (by this time everything was scattered on the cabin floor, which was also covered in water and broken glass) and find the Pentax, which was saturated.

I boosted the ISO up to 1600, shot manually hand-held at 1/45th assisted by a powerful search light from the ship. This was one of the resulting photos. The EXIF shows the flash was used, but most times it never worked.

Burma is so secretive that no-one apart from the passengers and crew, knew this had happened. In any other country (such as on the River Murray in Australia, or the Mississippi River in the US) this photo, despite its poor quality, would have made the newspapers.
| | |
| --- | --- |
| | |